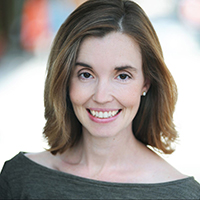 Erin Owen joined the Total Leadership team in 2005 and is an integral member of our client services team.  She was instrumental in developing our train-the-trainer certification process and has brought the Total Leadership program to various organizations, including women in academic medicine, students in the Wharton MBA program, and other academic and for-profit organizations.
Prior to joining our team, Erin received her MBA from the Kellogg Graduate School of Management at Northwestern University and her graduate certificate in international studies from the Hopkins-Nanjing Center in Nanjing, China. She holds a B.A. in Chinese Studies from Grinnell and has a certification in Health Coaching from the internationally recognized Institute for Integrative Nutrition in Manhattan, where Drs. Deepak Chopra, Andrew Weil, and Neil Barnard are faculty members.
Drawing on 2+ decades of experience ranging from organizational change management consulting to leadership coaching, Erin Owen has consulted with and coached hundreds of entrepreneurs, business leaders, c-suite teams, and private individuals from more than 15 countries in the Americas, Europe, the Middle East, and Asia. She takes a unique east-meets-west approach to helping clients more effectively manage their professional lives, grow their leadership capacity and resilience, and lead healthier, happier, more productive lives.
Erin is a published author, working mother, and avid traveler who regularly leads groups to Asia. She is passionate about teaching a more sustainable way of living and working—a simpler, more harmonious way that allows us to thrive while preserving what is most precious and important.